Solar Projects for Teens
Building solar-powered toys isn't ideal for everyone, especially older kids and teenagers who are more drawn to practical projects than mechanical dinosaurs and cars. That doesn't mean that teens have to miss out on the fun. There are tons of solar project tutorials available to teens, whether they're fascinated by science and engineering or just want to try an eco-friendly DIY project. Solar ovens and simple solar cellphone chargers are two popular projects that teenagers can do inexpensively on their own.
Solar Ovens for Teens
Solar ovens really work for cooking food on sunny days. Plus, you can make a solar oven in an afternoon with materials found around the house or easily obtained from the grocery store. Instructions vary by project, but most call for a box, aluminum foil, clear plastic wrap, a box cutter, and tape. Because a wide range of tutorials is available, teens who don't have the exact materials for one set of instructions can easily find other sets to match what they have on hand. Don't have a packing box with flaps, but there's a pizza box waiting to go into the recycling bin? Follow a pizza box solar oven tutorial.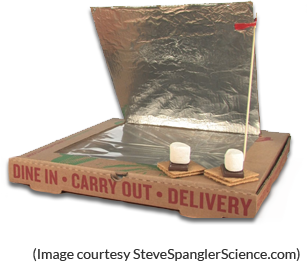 Solar Phone Charger for Teens
A solar-curious teen looking for something a bit more advanced might be interested in building a solar cellphone charger. Chargers can be made for around $20, and they're great for camping trips, dorm rooms with limited outlets and general energy-saving goodness. Charging time will depend on the capacity of the solar panel used, and adding a power bank allows for charging even when the panel isn't in direct sunlight. Though this project isn't as fast and easy to build as a solar oven, teens will end up with a rewarding and practical product they made themselves.