When it comes to veterans looking to land a solar energy job, the timing couldn't be better. More than 242,000 Americans are working in the U.S. solar energy industry as 2018 – that's twice as many as 2012. Solar energy companies, moreover, view military vets as attractive candidates for a wide variety of job openings, from entry-level positions to those that require more education, experience, and expertise.
More than 19,000 military veterans now work in the U.S. solar energy sector, representing nearly eight percent of the industry.
VETERANS IN SOLAR JOBS BY SECTOR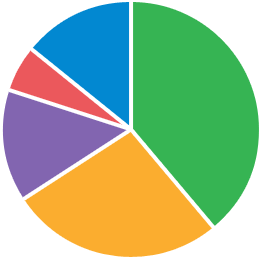 39%

of veterans work in installation

27%

of veterans work in manufacturing

14%

of veterans work in sales and distribution

6%

of veterans work in project development

14%

of veterans work in "other"
Credit: The Solar Foundation, 2013
As American servicemen and women prepare to exit the military, there are several reasons why solar energy is a solid next step on the veterans' career path:
Veterans often come equipped with skills, training, technical knowledge, and experience that are well suited to this field.
Veterans bring a strong work ethic, a "can do" attitude and highly developed teamwork skills.
Solar energy is a natural fit for service-oriented individuals looking to enhance national energy security, public and environmental health and quality of life
Solar companies hire veterans because they come trained, ready, and passionate. The solar industry is filled with people who are passionate about the job and who work together to help people, the environment, and national security. Solar, like the military, is not just about the paycheck; it's also about working for something larger than oneself. Veterans working in solar get to serve our nation twice.

Nat Kreamer
Chairman of the Solar Energy Industries Association (SEIA), and a veteran
According to The Solar Foundation, one of every 100 new jobs created between 2012 and 2017 was in solar.
What Veterans Bring to Solar Careers
Self-discipline

Systems expertise

Valuing teamwork

Punctuality

Adaptability
These are just a few of the attributes military veterans possess that make them especially well suited to civilian life in the solar industry following discharge.
Siggi Brocks knows this well as a solar energy instructor at Erwin Technical College in Tampa, Florida.
The good thing about my student vets is that they're well prepared to study the subject and they're usually very employable: They show up on time, they have math skills generally above the level of high school graduates and a good sense of ethics.
Since launching the seven-month solar training course in 2012, veterans have represented from 20 to 40 percent of Erwin Tech's program. Five of the 12 students in Brock's 2016 course at Erwin Tech are military veterans.
Brocks said his student vets are excited about participating in a challenging, rapidly evolving and fast-growing technology-driven clean energy industry. They appreciate the opportunity to gain accredited, hands-on training, earn industry qualifications and meet and network with other vets with similar experiences and aspirations.
Retired Army Col. Thom Besch, the founder of Veteran Solar Systems in New York, agrees. After retiring from the military in 2009, Besch went on to do everything from solar sales, design, installation, project management and running the regulatory office of a solar energy company before he started Veteran Solar Systems in 2014.
In my experience working with a lot of young, as well as older, soldiers, I discovered that many of them are struggling to figure out what to do next. … Having made the transition from military service to solar, I recognize the challenges they face, and steps they can take to help ensure they can successfully make the transition from a military environment to a civilian career.
All Brocks' solar vet trainees at Erwin Tech said they see the introductory solar training they are receiving as opening the door to new career paths and as a stepping stone to greater opportunities.
Opportunities are widening, and that's great, said Brocks. "We're getting more and more calls for service techs and troubleshooters as the industry matures. Those don't pose as much of a physical challenge. PV systems need monitoring and servicing, and companies like to have service contracts in addition to doing installations.
Program Spotlight: Solar Ready Vets
Some 200,000 members of the U.S. Armed Forces have been exiting the military annually in recent years. Having served their country at home and abroad, ensuring a successful transition for veterans to civilian life is a priority for the U.S. government and society.
Officially launched by President Obama in April 2015 as a facet of the Department of Energy's SunShot Initiative, the Solar Ready Vets program connected our nation's skilled veterans to the solar energy industry.
As a pilot, the intensive four- to six-week program graduated 526 students from 35 cohorts in 10 different states across the country. The pilot ended in 2017, and today Solar Ready Vets is an independent program administered by participating military bases.
However, the Solar Foundation is continuing its work with veterans through the Solar Ready Vets Network which plans to offer 12-week on-the-job fellowship opportunities in partnership with participating solar employers. Find out more here.
Who can participate?
Active service members exiting the military in six months or fewer and hoping to pursue a civilian job through employment skills training, apprenticeships and internships. In addition, current veterans can access DOE's Solar Instructor Trainer Network programs via the SunShot Initiative's Clean Energy Training Directory.
Why is this important?
An initial cohort of exiting U.S. Armed Forces personnel graduated from pilot Solar Ready Vets training programs at Camp Pendleton in San Diego, Fort Carson in Colorado Springs, and Naval Station Norfolk in Virginia in 2015. All received job offers from solar energy companies.
What students learn:
Led by SITN master trainers or skilled, accredited PV instructors approved by Solar Ready Vets, trainees learn how to size and install solar PV systems, connect them to the grid, and interpret and comply with local building and electrical codes. In addition, they obtain valuable OSHA safety training and certification. All trainees also sit for the North American Board of Certified Energy Practitioners PV Entry Level Exam.
How does it work?
DOE-trained SITN educational partners, typically accredited community colleges, deliver the coursework, which includes hands-on training, internships, interviews with leading solar companies and other job search assistance. Overall, Solar Ready Vets and SITN programs are up and running at more than 400 community colleges in 49 states.
What does it cost?
When it comes to financing their educations, military students can use their G.I. Bill benefits to cover the cost of tuition and materials. State funding is available in some cases, as are other sources of tuition support. Looking past program completion, leading U.S. solar companies are participating in Solar Ready Vets as supporting program partners. Among them, SolarCity, SunEdison, SunPower, Sunrun and Vivint Solar interview, hire and otherwise assist graduates in obtaining employment.
How many people have used the program?
Overall, the DOE expects to have Solar Ready Vets programs up and running at 10 military bases and see 50,000 veterans graduate and obtain solar jobs, thereby making a successful transition from military to civilian life. The full-scale program will be managed by an independent national coordinator with SunShot support.
Adding the Solar Spin to Your Military Resume
When embarking on a new job search, a professional resume is the initial, key piece of reference material employers use to assess and screen job applicants. Whether through a good, old-fashioned paper resume or a digital, online resume, solar companies want to be sure that your skills and values align with their company mission and employee requirements.
Here are some terrific tips on how to build your resume to reflect your relevant military experience as well as your commitment to a green, sustainable energy future, all while positioning you as a strong candidate for a career in solar.
Assessment

Good research, planning, and preparation are keys to a successful job search. Honestly assess your strengths and weaknesses, the types of work you're good at and enjoy, and how these might be applied in the solar energy sector.

Take time

Devote time and effort to identify how your military experiences, education and training lineup with specific job requirements and the solar energy industry in general.

Research

Learn about the industry and the various types of jobs available. Like any large industry, there will be specific options that will optimize the skills you learned in the military.

Revamp your resume

Thoroughly read job descriptions and tailor your resume accordingly.Highlight the experience and skills you've acquired related to the positions for which you are applying. Make as many of these connections as possible to get noticed by the recruiter.

Good attitude

Don't get discouraged if you don't get a job right away. Take the longer view that crafting a good resume and tailoring it for specific job opportunities is your full-time job.
Solar Scholarships: Training for Veterans
The potential for the fast-growing U.S. solar industry to help veterans transition to civilian life hasn't been lost on government leaders, policymakers or industry insiders, all of who are stepping up to help in this effort. Government and solar energy business leaders are acting individually and participating in public-private partnerships – such as the Department of Energy SunShot Initiative's Solar Ready Vets program – to connect military veterans with solar energy education, training, jobs and career opportunities that offer substantial benefits and rewards to society as well as veterans and their families.
The federal Workforce Innovation and Opportunity Act of 2014 also provides funding for qualified organizations that provide solar job and career education and training. WIOA aims to transform federally funded training programs to ensure all workers can get the training and skills necessary to find fulfilling, living-wage jobs. Furthermore, the Department of Labor is working with DOD, DOE, workforce agencies, and American Job Centers to ensure that transitioning service members and unemployed veterans are made aware of the solar workforce training programs available to them. Solar installer and other entry-level positions are generally well paying ($20-$24 per hour), do not require advanced degrees, and attract veterans as strong candidates. Here is a list of some government-supported solar energy scholarship and training opportunities.
Solar Ready Vets Network

Check out more information about this DOE-SunShot Initiative solar job training program for soon-to-be and current military vets.

Solar Shield Veterans Program

Cleantech Institute is working with Workforce Investment boards across the U.S. to help veterans acquire the skills, knowledge and experience they will need.

DoD SkillBridge Initiative/ SkillBridge

This program promotes job training for qualified transitioning service members. Training, including apprenticeships and internships, can start up to six months prior to a service member's separation

Troops to Solar

This resource offers more information on the Obama administration's national solar jobs training for vets initiative as well as Solar Energy Industries Association companies goal of employing 50,000 veterans in the solar industry by 2020. Post-9/11 VA GI Bill: Offers higher education and training benefits to military veterans and service-members who served after September 10, 2001. In some cases, the benefits are extended to their families.

Montgomery G.I. Bill

Assists active duty military service-members and reservists in pursuing higher education degrees, certificates, and other education and training

Jobs for Veterans State Grants

These state grants help veterans find jobs by providing employment services at One-Stop Career Centers, by Disabled Veterans Outreach Program specialists and Local Veterans Employment Representative staff.
Resources: Veterans and Green Jobs
U.S. solar energy offers promising employment prospects for veterans, but it is not the only fast-growing sector of the U.S. economy that holds great potential for public service-minded veterans.
Forging a low-carbon society economy for the 21st century has been a strategic priority for the nation. With this effort, a strong emphasis has been placed on fostering ¨green¨ job growth among military veterans in particular. Veterans can find jobs in sectors beyond solar, including wind power, clean-tech, and the rapidly growing U.S. green building industry. The following is a list of environmentally friendly job and career resources specifically for veterans that can help you get started: