Solar leases are very popular with homeowners. In sunny California, 32 percent of all solar installations in 2017 were done via third-party financing. That's a jump from less than 10 percent in 2009, according to the Climate Policy Initiative. For homeowners who want to have the benefits of solar power without the hassle of owning or maintaining their own system, a lease makes sense: While an outright purchase requires a large amount of cash on hand, and a loan means monthly payments but comes along with the responsibilities of maintenance, a solar lease gives some homeowners what they want without the hassles.
It is important to remember that solar leases are not available in all states. Before looking into whether a solar lease is the right option, ensure that it is possible in your state.
Take the Quiz:
Is a Solar Lease Right for You?
Is a solar lease really the right move for you right now? There are a few simple questions that can help you decide if it's time to move forward, or if it's best to step back and reevaluate your situation. Take a look at the following questions to determine the best course of action.
Only the homeowner can have a solar array installed and enter into a lease for the system. If you do not own your home, speak to your landlord about solar.
Is your credit score above 680?
Most leasing companies require a credit score of 680 or higher, though special financing might be available for those with a credit score between 650 and 679.
Is your roof mostly free of tree shading?
Large trees shading your home might preclude the use of solar panels. The only way to be sure is to have a site evaluation completed by the leasing company.
Is your roof in good condition?
Solar panels can only be installed on roofs that are in very good condition. If your roof needs to be replaced, take care of that before installing solar panels.
Do you plan to stay in your home for at least 15 years?
Most solar leases run for a 15 to 20-year term. Moving out of the home before the lease is up might lead to issues with transferring the lease to the new buyers.
Is buying the solar system outright cost-prohibitive?
Some homeowners don't have the cash upfront for a purchase, or a loan doesn't make sense for them, given their financial situation. In this case, a lease might be the best bet.
Are you OK with giving up rebates and tax incentives?
When you choose to lease, you do not qualify for tax incentives or rebates; the solar company gets all of those. If you are okay with giving up those perks, leasing is for you.
In-Depth: How a Solar Lease Works
You wouldn't lease a car without knowing how the car and the financing work; the same should be true for leasing solar panels. Here's what you need to know about the process.
1
Research begins.
You're already on the right track by reading this guide. A lease is a long-term agreement, so treat it just as you would any high-value contract on your home or your vehicle.
2
Consultation with the leasing company.
Once you have decided that a lease is a good idea, it's time to talk to the experts. Request that the leasing companies operating in your area come to your home and do a site review, then go over the details of the proposed contracts. Some leasing companies are open to negotiations, so be prepared with the terms you would really like to see in the contract.
3
Review the agreement.
Once the agreement is hashed out, take some time to think it over. Give yourself at least a few days to read through it all and do further research on anything you don't understand. Don't hesitate to call the salesperson to get more details. You could also consider taking the documents to an attorney for a quick review before you sign everything.
4
Sign all documents and make your first payment.
Is it all good to go? Sit down with the salesperson and sign on all those dotted lines. At this point you might be asked to provide a down payment (assuming that's in your contract) or make a first monthly payment.
5
Installation time.
This should happen relatively quickly. Expect to see expert installers show up to do the work. Watch as the magic happens – it's really rather fascinating. If anything looks strange, don't hesitate to stop the work and ask what they are doing and why. They should be able to give you a clear answer.
6
Make monthly payments.
Now that the solar array is up and running, your responsibility lies in writing the checks as promised. Make your monthly payments on time, every time, to avoid any penalties or fees.
7
Maintenance.
Your leasing company is responsible for everything, including the maintenance on the solar array. They should have a regular maintenance schedule; however, you will still need to keep an eye on the solar panels. If there are any problems – for instance, if there is some damage to a panel after a storm – get in touch with the leasing company immediately.
8
Take advantage of lower rates.
Wait impatiently for your next electric bill, which should reflect a nice bit of savings. The bottom line should be pleasantly lower than what you were paying before the solar panels were installed.
9
Make a decision when the contract ends.
Most solar lease contracts are for at least 15 years. Once that period is up, it's time to decide what to do. At this point you can enter into a new solar lease (and get new equipment) or you can choose to buy out the original panels at a very good price.
Pros and Cons of Solar Lease
As with any other type of financing, there are upsides and downsides. Understanding each of these can help you choose your stance on whether solar leasing is the right call. Here are the pros and cons you need to know to make an informed decision.
Pros
The leasing company handles all maintenance.
You will never have to worry about getting up on your roof to deal with maintenance of your solar panels. That's the job of the company that leased them to you.
There are no up-front costs.
One of the biggest draws of a solar lease is the ability to get things started without paying a dime. Though some contracts might require the first monthly payment upon signing, that amount is much less than the costs that would come from a purchase or loan closing costs.
Electricity immediately becomes cheaper.
By purchasing power through the leasing company instead of the local utility, homeowners can bet on rates that are often lower than market level. Most leases will allow you to lock in those good rates for a certain number of years, thus guaranteeing the savings.
Upgrades can be easy.
Because the equipment is owned by the leasing company, upgrades will likely be available on a regular basis. As solar panels become more efficient, look into whether your panels can be upgraded or a nominal fee or updated contract terms. This could help ensure you don't have outdated equipment at the end of the lease.
Cons
Many solar leases go up in monthly payments.
Typical solar lease contracts have an escalator clause, which means that the costs can go up, sometimes by as much as 3.5 percent per year, according to the National Renewable Energy Laboratory. This means that by the end of the term, your lease payments might negate your energy savings.
Selling your house can get tricky.
When you lease solar panels, you are responsible for the contract. But what if you move? The new buyers must be willing and able to take over the lease from you – assuming they qualify. If they do not, you must buy out the remainder of the agreement, which might be a substantial lump-sum payment.
The solar provider gets the rebates and credits.
By leasing, you are giving up that 30 percent tax credit. "All tax incentives, credits and rebates are reserved for those who purchase a solar system and not lease," said Chahine Bourdouane of Green Solar Technologies.
You're locked in for at least 15 years.
Most lease agreements are for an extensive period of time; the most common is 15 to 20 years. A lot can happen in two decades, including cheaper electricity rates that could leave you actually paying more than your neighbors without solar.
10 Tips to Decoding a Solar Lease Contract
Any legal contract can be quite confusing; a solar lease contract is no different. Though it is important to read through the entire contract and understand all of it, there are some specific points that homeowners should remember when looking for the key clauses in the contract.
Look for payment escalators.
Some contracts include escalators. That means that each year, the amount owed on the lease goes up by a certain percentage. Over time, the increasing monthly payment might cut deeply into the energy savings. The ideal contract for a homeowner is one that has no payment escalators.
Get it all in writing.
No matter what a salesperson tells you, it doesn't matter – what matters is what is in black and white in that contract. Any special arrangements made in phone calls, emails, text messages, or in person will not hold up; only the legally binding assurances in your contract will.
Is there a payout clause?
"Key factors to seek when financing solar are the shortest term and lowest interest rate which will allow you to own the system outright as soon as possible (and ideally no longer pay for powering your home)," Bourdouane said. A payout clause will allow you to pay one lump sum and get out of your contract before the term is up, which can save a great deal in interest payments.
What size do you really need?
Some advertisements for leased panels are based on one particular size, which might not be right for your home. Ask for a thorough site evaluation to determine what size array you need, where the best placement will be, and what your bottom line will be in terms of monthly payment obligations.
Consider your HOA.
Does your homeowner's association allow the installation of a solar array on your home? Many HOAs have very strict rules about changes to your property, and those rules might prohibit solar panels on the roof. Look over your HOA contract before considering a solar array, and if it is allowed, look for any specific points that might prohibit leasing.
Who owns the Solar Renewable Energy Certificates?
SRECs are created for every mega-watt hour of electricity created by the solar system. Electric generation companies will buy these SRECs to meet federal requirements. Depending upon the state, each of these could be worth hundreds of dollars, and a residential system can produce several in a year. Does the homeowner profit from this, or does it go back to the leasing company?
What if you do not buy the system at the end of the lease?
Solar companies will allow homeowners to buy their equipment at fair market value at the end of the lease term. But what if buying the equipment isn't the right move? Ask what the fees might be for removing the panels from the home, as well as how extending your lease might work.
Are there guarantees on the system's performance?
One of the issues with leasing is that the leasing company will be the one to monitor the solar panels – not the homeowner. That can lead to questions of what the performance is on those panels. Ensure that you have some way to monitor the panels yourself, and look for a clause that explains what will happen if the equipment is underperforming.
Beware "limited time only" offers.
When an offer uses urgent language – "Hurry, these deals will be gone!" or "Offer good only if you call right now" – that might be a red flag. If you do take advantage of a promotion, make sure you aren't rushed into making a choice, and that you get all the promotion's benefits spelled out in the contract.
How will the company deal with damage?
The nature of solar panels requires that holes be drilled into your roof and the roof joists. The contract should state that any damage resulting from the solar panel installation is their responsibility. If you choose to have the solar array removed, the company should also be responsible for ensuring your roof is in sound, safe condition with no leaks after the final repairs.
Seeing a few samples of a standard solar lease contract can help homeowners understand if their particular contract is on the up-and-up. Sample contracts from the National Renewable Energy Laboratory can give homeowners a head start on figuring out their solar lease contract.
What Happens When You Move?
Though many homeowners intend to stay in their homes for many decades – after all, they leased those solar panels with the intention of saving money over the long haul – life often has other plans. Some individuals who take advantage of solar panels find that eventually, they need to move out of their home, for whatever reason. What does that mean when it comes to the lease?
In addition to not capitalizing on the incentives, rebates and ownership of your solar system, leasing a system can cause problems for a potential new buyer as they first must want solar for their new home and secondly, must be able to qualify to take over the lease from the seller.

Chahine Bourdouane
Certified Financial Specialist at Green Solar Technologies
A solar system might become a nice selling point for your home, but once the new buyer realizes that they will have to take over the lease, they might back out of the sale. Another problem could be the qualifications: the potential buyer might not qualify under the terms of the lease agreement, which means that they won't be allowed to sign a lease of their own.
That leaves a homeowner in a serious bind. The only options are to end the lease early and have the solar panels removed, or pay out the remainder of the agreement, which could be a substantial chunk of change that might cut deeply into any home sale profits.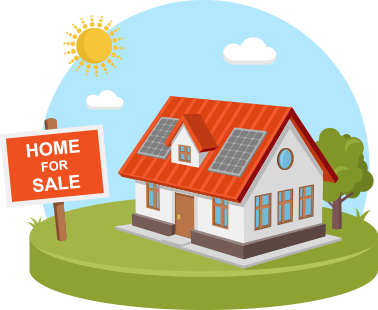 To help avoid any problems that might come from a house sale, homeowners can look into their contract for exactly how the situation might be handled. Some leasing companies will allow the new owners of the home to assume the payments when the house is sold, while others will require new buyers to qualify for the lease entirely on their own. An up-front understanding of what will happen when the house goes on the market will help eliminate any surprises later.
What the Future Holds for Solar Lease
Though leasing and PPAs account for more than 80 percent of the residential solar market in some states, that stronghold will come under fire as more financial institutions offer affordable loans for solar panels and the outright purchase costs become cheaper. Additionally, the 30 percent tax credit and its gradual sunset by 2022. Loans that allow zero down are becoming more common, and that means that leases will face stiff competition in the coming years.
However, actual changes depend strongly on the state. Some states are wary of leases and are looking to change the way they are presented to consumers. Other states put strong restrictions on solar leasing, while still others are open to embracing any type of solar technology for their homeowners.
The smartest move for homeowners in the midst of this solar leasing upheaval is to ensure they are getting the proper information. Always understand every nuance of the contract, use a solar savings calculator to add up real-world numbers, and keep an eye on legislation that might affect what is allows in your particular state.