Solar energy is increasingly common on rooftops everywhere. Today, more than 2 million solar installations in the U.S. are generating electricity from the sun rather than from the local utility company. If you're thinking of greening your roof with solar panels, it's important to know the different types of solar panel companies, what they do and how they can impact your solar experience. This guide is designed to introduce the types of solar companies, explain the current trends shaping the residential solar industry, and answer common questions about going solar.
Four Types of Solar Panel Companies
Top 50 Solar Energy Companies
Interested in learning more about the top solar energy companies that can help you go solar? Here is the Big List of 50 Solar Companies leading the clean-energy way through manufacturing, financing and installing solar panels:
Company
Headquarters
Type of Company
Founded
more info +
Canada
Manufacturer
2005
Canadian Solar

With operations in 20 countries on six continents, Canadian Solar is one of the world? leading manufacturer of solar panels, storage systems, and provider of solar systems. Over the last 15 years, Canadian has provided more than 14 GW of PV modules to clients around the world.

more info +
China
Manufacturer
1959
Jinko Solar

With offices and production facilities in Asia, Europe, Africa, North America, and South America, Jinko provides solar systems and services for residential, commercial and utility projects.

more info +
Louisville, CO
Installation
1978
RGS Energy

For 35 years, Real Goods Solar has been selling solar for homes, businesses, schools, universities, government facilities and utilities. RGS Energy operates in California, Colorado, Connecticut, Maryland, Massachusetts, New Hampshire, New Jersey, New York, Rhode Island, Vermont and Hawaii.

more info +
San Mateo, CA
Financing/ Installation
2011
Solar City

Solar City provides financing options, design services, solar installation and monitoring for residential solar customers. It operates in Arizona, California, Colorado, Connecticut, Delaware, Hawaii, Maryland, Massachusetts, Nevada, New Jersey, New York, Oregon, Pennsylvania, Texas and Washington.

more info +
Rohnert, CA
Distributor
1985
Soligent Distribution

Soligent is the largest solar-system distributor in the Western Hemisphere, providing solar hardware, system design services and financing in California and New Jersey.

more info +
Houston, TX
Financing
2008
Sunnova

Sunnova offers a variety of sales, lease and PPA plans, with a focus on getting customers solar savings as quickly as possible. Sunnova operates in Massachusetts, Connecticut, New Jersey, Deleware, Maryland, Indiana, Missouri, Colorado, Texas, Louisiana, New Mexico, Arizona, California, Oregon, Hawaii, Puerto Rico, Virgin Islands, Guam and Saipan.

more info +
United States
Manufacturer/ Financing
2004
SunPower

SunPower installs solar systems for homeowners, businesses of all sizes, governmental facilities, schools and universities, and utility production plants. For homeowners, SunPower offers flexible lease, loan and purchase programs.

more info +
San Francisco, CA
Financing/ Installation
2013
SunRun

Sunrun, the nation? leading solar lease and solar PPA provider, focuses its expertise on residential solar. Sunrun operates in Oregon, California, Arizona, Colorado, South Carolina, Connecticut, Maryland, New Hampshire, New Jersey, New York, Pennsylvania and Hawaii.

more info +
China
Manufacturer
1984
Trina

Trina is one of the leading photovoltaic panel manufacturers in the world, having supplied more than 11 GW of solar production worldwide. Trina Solar manufactures solar panels for residential, commercial and utility-scale systems.

more info +
Lehi, Utah
Financing/ Installation
1998
Vivint Solar

Vivint Solar installs and maintains solar panels on homes usually through power purchase agreements with homeowners. It operates in Arizona, California, Connecticut, Hawaii, Maryland, Massachusetts, New Jersey, New Mexico, New York, Pennsylvania, South Carolina and Utah.

Advanced Green Technologies
Fort Lauderdale, FL
Installation
2004
Affordable Solar
Albuquerque, NM
Distributor
1999
American Solar Wholesale
Las Vegas, NV
Manufacturer/ Distributor
2009
Bland Solar & Air
Bakersfield, CA
Installation
1985
Complete Solar
San Mateo, CA
Financing/ Installation
2006
CSUN
China
Manufacturer
1959
Direct Energy Solar
Columbia, MD
Financing/ Installation
1958
Dividend Solar
San Francisco, CA
Financing
2006
First Solar
United States
Manufacturer
1997
Grape Solar
United States
Manufacturer
2005
GRID Alternatives
Oakland, CA
Installation/ Advocacy
1986
Hanwha Q-Cells
Germany
Manufacturer
1938
Horizon Solar Power
Temecula, CA
Financing/ Installation
1912
JA Solar
China
Manufacturer
1988
Kyocera
Japan
Manufacturer
2008
LG
South Korea
Manufacturer
2001
Lumos
United States
Manufacturer
1997
Mosaic
Financing
Financing
2005
NRG Home Solar
Princeton, NJ/ Houston, TX
Financing/ Installation
1998
OneRoof Energy
Toronto, CA
Financing/ Installation
2006
PetersenDean
Fremont, CA
Financing/ Installation
1999
REC
Norway
Manufacturer
2001
ReneSola
China
Manufacturer
2007
Renew Financial
United States
Financing
1985
Risen Energy
China
Manufacturer
2011
Samsung
South Korea
Manufacturer
2014
Sharp
Japan
Manufacturer
2012
Solar Universe
Livermore, CA
Financing/ Installation
2015
Solar World
United States
Manufacturer
2008
Spruce Finance
United States
Financing
2008
SunEdison
United States
Manufacturer
2009
Sungage Financial
Boston, MA
Financing
2008
Sungevity
Oakland, CA
Financing
2011
Suniva
United States
Manufacturer
1998
Suntech
China
Manufacturer
2010
Trinity Solar
Wall, NJ
Financing/ Installation
2007
Verengo Solar
Torrance, CA
Financing/ Installation
2014
Vikram Solar
India
Manufacturer
2004
Yingli Solar
China
Manufacturer
1978
Trends and Issues: The Future of Solar Companies
As solar spreads to more and more rooftops, utility companies are seeing a threat to their traditional business models. If homeowners can generate their own electricity, that's electricity they are not paying the utility company to produce. Additionally, if states require utility companies to buy any excess electricity residential solar panels produce (net metering), that's even more profit lost by the energy companies.
Utility companies are fighting back against this disruption by urging state public utility commissions to hit solar homeowners with grid connection fees and reduced net metering rates, effectively undermining financial incentives to go solar. The solar industry is feeling the pinch in some states due to uncertainty about the future return on investment of residential solar.
While public utility regulators struggle to find ways to fairly include solar energy in the United States' electricity mix while maintaining an affordable and reliable energy system, new technologies further complicate the future balance of solar companies and utility companies.
While solar panel manufacturers, financers and installers make up the majority of solar companies, the future of rooftop solar success may lie in a new breed of company: developers of affordable residential battery storage. This, combined with intelligent home energy management systems, may be the tipping point for a home solar explosion.
8 Top Solar Battery Storage Companies
The battery storage race is similar to the panel efficiency race in that a lot of solar companies are competing to be on top right now by creating the affordable home battery that will really make ditching the utility company doable night and day. Solar panel companies are packaging panels, complete systems and batteries.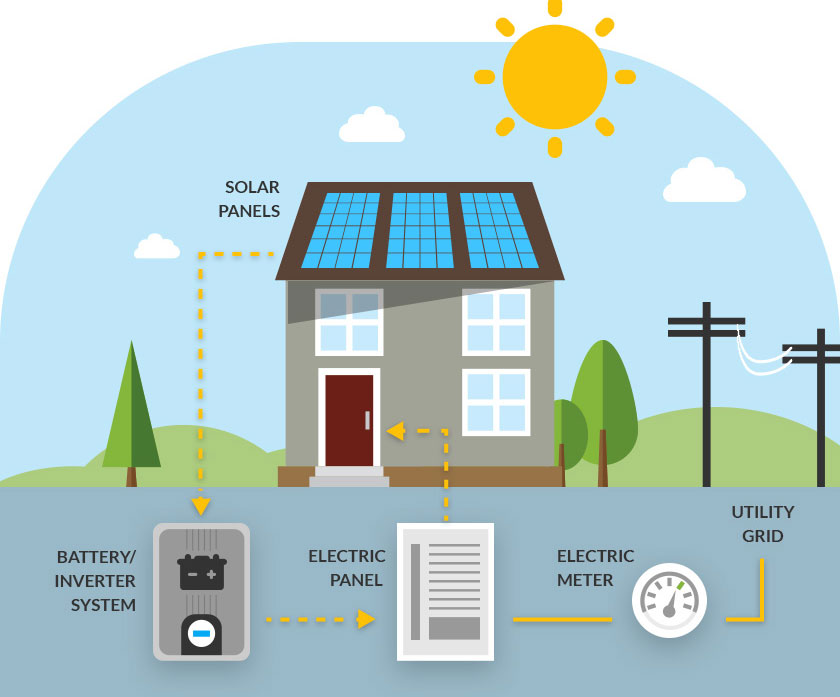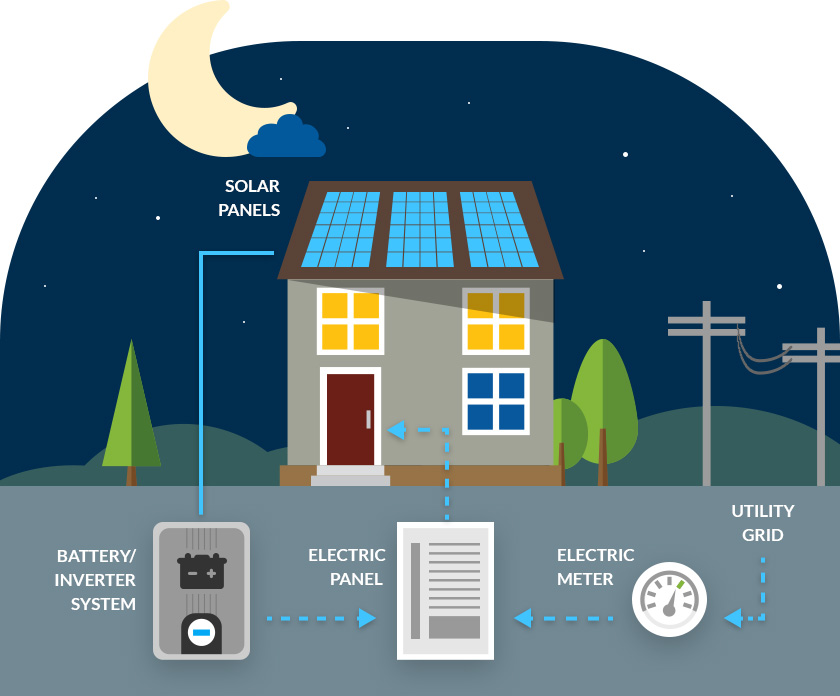 Here are eight top companies competing to give homeowners maximum control of their energy costs: