Inevitably, everyone looking to go solar asks the same question: What's the best solar panel? And equally as inevitable, the answer is always: it depends. This is true to the point that if a contractor tells you he only sells one type of solar panel because it's "the best," you might want to consider finding a new contractor.
Every rooftop, every family's energy use, and every aesthetic sensibility is different – so the best solar panels for your neighbor's home may not be the best for yours.
50 Best Solar Panels Ranked
While it's impossible to label one solar panel "the best" for every situation, we've evaluated panels from a variety of manufacturers to pick our favorites at various power levels. The chart is interactive, so you can sort by the factors that are most important to you.
Our Rank
Manufacturer
Headquarters
Panel Name
Panel Type
Energy Output (W)
Efficiency (%)
Materials Warranty
Output Warranty
1
SunPower
United States
SPR-X21-345
Monocrystalline
345
21.5
10
25
2
SunEdison
United States
F280 KzD
Monocrystalline
280
17.1
25
25
3
SunPower
United States
SPR-E20-327
Monocrystalline
327
20.4
10
25
4
SunEdison
United States
F275 CzC
Monocrystalline
275
16.8
25
25
5
LG
South Korea
LG335S2W-G4
Monocrystalline
335
17.1
12
25
6
Suniva
United States
OPT340- 72-4-100
Monocrystalline
340
17.43
10
25
7
Solar World
United States
Sunmodule Plus SW 300 Mono
Monocrystalline
300
17.89
10
25
8
Suniva
United States
OPT290- 60-4-100
Monocrystalline
290
17.65
10
25
9
Lumos
United States
GSX27060M-C
Monocrystalline
270
15.9
12
25
10
Suntech
China
STP325S-24/Vem
Monocrystalline
325
16.7
12
25
11
Risen Energy
China
RSM72-6-320P
Polycrystalline
320
16.49
12
25
12
Grape Solar
United States
GS-P60-265-Fab2
Polycrystalline
265
16.21
10
25
13
Canadian Solar
Canada
Max Power CS6X-320P
Polycrystalline
320
16.68
10
25
14
Hanwha Solar
South Korea
HSL72S-315W
Polycrystalline
315
16.1
12
25
15
ReneSola
China
JC320M-24/Abs
Polycrystalline
320
16.5
10
25
16
Jinko Solar
China
JKM320P-72
Polycrystalline
320
16.49
10
25
17
Lumos
United States
LSX26060M-B/C
Monocrystalline
260
15
12
25
18
LG
South Korea
LG285S1C-G4
Monocrystalline
285
17.4
12
25
19
Solar World
United States
Sunmodule Pro-Series SW260 Poly
Polycrystalline
260
15.51
10
25
20
Trina
China
TSM-PD14
Polycrystalline
315
16.2
10
25
21
Kyocera
Japan
KD330GX-LFB
Polycrystalline
330
15.04
10
25
22
Suntech
China
STP275S-20/Wem
Monocrystalline
275
16.9
12
25
23
Trina
China
TSM-PEG5
Polycrystalline
265
16.1
10
30
24
Canadian Solar
Canada
Quintech CS6K-280M
Monocrystalline
280
17.11
10
25
25
Yingli Solar
China
Panda Series YL280C-30b
Monocrystalline
280
17.1
10
25
26
REC
Norway
REC280TP BLK
Polycrystalline
280
17
10
25
27
JA Solar
China
Jam 6(L) 60-295/PR
Monocrystalline
295
16.04
10
25
28
Risen Energy
China
RSM60-6-270M
Monocrystalline
270
16.5
12
25
29
Jinko Solar
China
JKM275M-60
Monocrystalline
275
16.8
10
25
30
Hanwha Solar
South Korea
HSL 60S-270W
Polycrystalline
270
16.2
12
25
31
Yingli Solar
China
YGE Series YL270P-29b
Polycrystalline
270
16.6
10
25
32
JA Solar
China
Jam 6 60-270/SI
Monocrystalline
270
16.51
10
25
33
Canadian Solar
Canada
Dymond CS6K-270P-FG
Polycrystalline
270
16.5
10
25
34
Hanwha Q-Cells
Germany
Q.PRO-G4 265
Polycrystalline
265
15.9
12
25
35
Kyocera
Japan
KU265-6MCA
Polycrystalline
265
16.11
10
25
36
Vikram Solar
India
Eldora VSP.72.AAA.03
Polycrystalline
315
16.23
10
27
37
ReneSola
China
JC260M-24/Bb
Polycrystalline
260
16
10
25
38
CSUN
China
QSAR 320-72M
Monocrystalline
320
16.53
10
25
39
REC
Norway
REC260PE BLK2
Polycrystalline
260
15.8
10
25
40
JA Solar
China
JAP6-48-225/4BB
Polycrystalline
225
17.37
10
25
41
CSUN
China
CSUN 310-72P
Polycrystalline
310
16.01
10
25
42
Sharp
Japan
ND-250QCS
Polycrystalline
250
15.3
10
25
43
Grape Solar
United States
GS-S-160-Fab8
Monocrystalline
160
16.4
10
25
44
Jinko Solar
China
JKM215M-72
Monocrystalline
215
16.84
10
25
45
Vikram Solar
India
Eldora VSP.60.AAA.03
Polycrystalline
265
16.46
10
27
46
Samsung
South Korea
LPC250SM
Monocrystalline
250
15.62
5
25
47
Sharp
Japan
ND-F2Q235
Polycrystalline
235
14.4
10
25
48
Samsung
South Korea
LPC235SM
Monocrystalline
235
14.68
5
25
49
First Solar
United States
FS-4112-2
Polycrystalline
112
15.56
10
25
50
First Solar
United States
FS-4105A
Polycrystalline
105
14.58
10
25
Expert Interview:
Mathew Vaughn
Most consumers are entering a whole new world when purchasing their first home solar energy system, and there are many concepts to understand and factors to consider. Here are a few questions that should be answered to help assure consumers that they are getting the best quality and value for their solar panel purchase.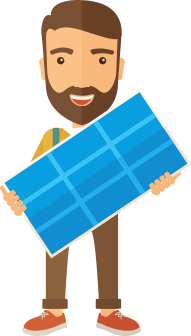 Do contractors have "deals" with certain distributors/manufacturers?
The answer is "maybe." Some contractors have special arrangements with one or more specific equipment (panels, inverters) manufacturers or distributors. These arrangements come in many forms, from one-time product price discounts to exclusive local or regional distribution agreements.
Can this affect the choice of panels a contractor might offer a homeowner?
It absolutely could. If an installer has a special deal with a manufacturer or distributor, that usually means more money in the installer's pocket if he or she sells a customer on that manufacturer/distributor's product. Which means, at the very least, an installer may possibly push a particular product brand over another that may be a better choice for the customer.
Learn more about choosing a solar contractor
What questions should you ask your contractor about panels?
Some installers will tell you that the specific brand or "type" of solar panel isn't really that important, it's the overall system – its cost, output and value – that matters. And there is some truth to that, but it's only partly true. There are a few important questions every consumer should ask their contractor about the solar panels he or she proposes to use:
What is the product (materials) warranty on my panels?
The product warranty commonly covers the repair or replacement costs for a failed panel due to manufacturing defect. A typical solar panel warranty is 10 years, although some may last 12 years or longer.
What is the performance warranty on my panels?
The performance warranty concerns a panel's output level. They commonly say that a panel will still be producing 80 percent of maximum output up to 25 years of service.
Is my warranty insured in case the manufacturer goes out of business?
Most manufacturers today do not provide this type of warranty insurance, but a few do. It's certainly worth asking about.
Learn more about Solar Panel Warranties
What will the total energy output of my system be?
OK, this question is not specific to the solar panel itself, but the bottom line for any solar PV system is total electrical output to your home and its overall value given the system's cost.
Are there any things that should make a homeowner suspect a contractor's panel choice?
Yes. If the contractor only offers one specific brand or panel model, that may be an indication that he or she has a special arrangement with the panel's manufacturer. Or if the manufacturer is hesitant to go into detail about the makes and models of any or all of the components being offered. In either case, the homeowner would be wise to seek out additional offers from other contractors before making his or her purchase.
Improving Upon the Best Solar Panels
It seems like every few months another PV manufacturer is announcing that it has raised the bar in solar panel or solar cell efficiency. In early 2016, SunPower said it has achieved a panel that converts 22.8 percent of the sunshine that reaches it into electricity. Then, just weeks later, Panasonic announced a solar panel efficiency record of 23.8 percent.
While manufacturers work hard for bragging rights to the best solar panel, the government too is working to further a renewable energy future. Learn about how the National Renewable Energy Laboratory is creating new technologies, testing new ideas and helping find the best solar panels to power your home:
Should You Wait to Buy Solar Panels?
With so many industry researchers working hard to create better, more efficient solar panels, you're probably wondering if it makes sense to invest in current technology or wait for "the big solar tech breakthrough." Are the best solar panels today still going to be the best tomorrow?
While a lot of attention is given to new efficiency records and reports of solar energy "approaching grid parity," the truth is that those spotlight-grabbing headlines don't reveal the less exciting part of the story. The fact is we are still working with the same PV technology that we have been for years.
Whether your solar panels are 22 percent efficient or 22.8 percent efficient, you're likely still better off going solar now. Why? Every year you don't use the power of the sun rather than electricity from the grid is a year you're still paying the utility company for all your energy. While the costs of installing solar panels are dropping on every front, the longer you wait the more utility bill savings you're missing out on.
Another thing to consider is the 30 percent federal incentive tax credit (ITC). That's thousands of dollars coming back to you if you go solar now, but only until 2019. The ITC and many other rebates are being cut back or eliminated altogether as the solar industry grows stronger. Will the savings from another 0.02 percent of efficiency in your solar panels add up to getting $4,000 or $5,000 taken off your tax bill? Doubtful.
How Can You Take Advantage of the ITC?